Benefits of Gaming Chairs
A fixed sitting position limits movement and overworks muscles.
The muscles need to work harder that accelerates fatigue, making things worse.
Users suffer health issues like shoulder and back pain.
Misalignments in the spine and knees place unbalanced pressure on the joints.
As head cranes forward, pain radiates up the neck, exploding into migraines.
In constrast, Everracer Gaming Chairs are Ergonomic and support a healthy sitting posture.
It comes with a padded bucket seat, high back, and backrest cushions.
Adjustable armrests provide extra spinal relief by absorbing the weight of the arms.
Gaming chairs promote movement while sitting, reclining backwards and forward.
In Gaming chairs, users can also tilt and lock the seat at different angles.
Must to have
Gaming Chairs
ALPHA-R4
EverRacer ER099 Black And White Gaming Chair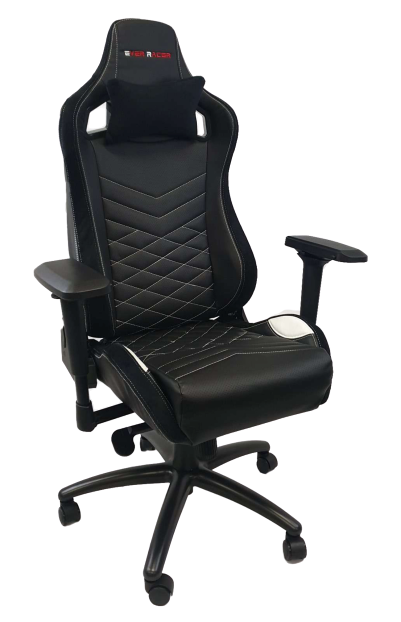 Material:

Carbon Fibre

Base dimension:

64cm

Backrest height:

70cm

Seat width:

53cm

Height clearance from ground to seat:

50cm - 60cm

Colour:

Black and White
SCORPION GAMING DESK-R2
EverRacer Ergonomic Streamlined model Gaming Desk
Table Dimmension:

120CM x 60CM X 74CM

Carton Size:

130*75*20 cm/51.2"x29.5"x7.9"

NW:

25 kgs/55 lbs

GW:

30 kgs/66 lbs

Wide space HDF desktop covered with carbon fibre

Colour:

Black and Red
WHY
EVERRACER ?
Unparalleled Quality
Ergonomic Design
Smart Intelligence Models
24/7 Customer Service
Quality & Standards
Advanced Aviate - Thick Seat and Backrest Padding
EverRacer Gaming Chairs come with thick layers of resilient foam on the seat and backrest. To give maximum comfort and support, premium-quality cold-foam padding is used in our chairs. Consequently, you can sit for long hours on our chairs, and they will always feel like brand new. The heavily padded seat cushions the legs and buttocks. The padded backrest of the chair cradles the spine and keeps it upright. Moreover, adjustable pillows support the natural curves in the neck and lumbar areas.
Cushion for Neck Muscles
Maximum Comfort with Reclining Back
The reclining backrest tilts 90~180 degrees to give your back and spine the rest and comfort it needs. It supports multi-functional tilt mechanism handles and gives you complete control over the chair's suspension. In addition, EverRacer Chairs have adjustable tilt for increasing and decreasing tension by matching your body weight for effortless, secure, and sturdy rocking without putting fatigue on your muscles.
High-quality Swivel Caster Wheels
Wheels are an essential part of a gaming chair. They play a significant role in its functionality and comfort. The high-quality swivel castor wheels in EverRacer Chairs enable effortless movement without damaging the surfaces. These wheels are designed to remain still and provide you the stability needed while gaming, and give you the feeling of sturdy and smooth movement.
Great Finish with PU Leather
The PU leather is used on the high-quality EverRacer chairs, offering a smooth experience with scratch and stain-resistant finish. The high-end quality of the material is designed and made with your total comfort in mind. Not only these are easy to clean, but also much more vital to keep the shape of the chair to last. PU Leather does not contain any harmful amounts of elements and so is perfect for adults and kids
Chairs based on
Gaming Interest